About us
Look forward to contineous guidance, suuport and cooperation


SPYM has over 28 years of expertise in the filed of Drug Abuse Prevention & early intervention among Children, adolescents, youth & adults.
SPYM has launched a special initiative in India to reform and rehabilitate juveniles in conflict with law and with a dependency on narcotics at first of its kind specialized centre for children in addiction & crime. The centre is operated without any external financial support.
SPYM is running 24 shelter homes for homeless people across Delhi where we offer basic yet essential services to the shelter users like food, clothes, clean drinking water, toilet facilities etc.
SPYM runs Drop in centre that caters to the needs of children vulnerable and dependent on drugs. This centre has been set up in Chandni Chowk, Delhi which has a large concentration of street children, many of whom are rag-pickers. Also, SPYM is managing Targeted Intervention Sites for HIV/AIDS prevention among Injecting Drug Users and long distance Truck drivers.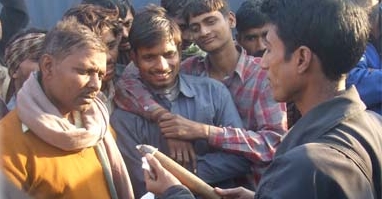 Awards won
"1989-Dr. Rajesh Kumar
Founder and National Executive Director of SPYM
was honoured with the National Youth Award 1999-SPYM received the Delhi Gaurav Award 2001-SPYM received the Commonwealth Youth Award 2001-SPYM received the National Youth Award awarded by the Ministry of Youth Affairs and Sports
Government of India 2006-Dr. Rajesh Kumar
the Executive Director of SPYM was awarded the "lakshmipat Singhania – IIM Lucknow
National Leadership Award" in recognition of his outstanding Achievements
commitments ad vision as a young leader in the field of community services 2014- SPYM recognised with National Award for Best Innovation in the filed of Substance abuse Prevention by Honb'le President of India. "
Why work with us
The volunteers may support in Communication & networking through the following:
• Fundraising
• Event coordination
• Photography
• Event planning
• Social media and blogging
• Website development
• Content Development
• Bi-monthly Newsletter
• Capacity Building of staff & volunteers (Soft skills development, orientation on basic IT skills, MS office, Photography, Research on web etc.
• Grant Proposal Writing
• Documenting best practice
• Policies and procedures
• Logistical work
• Programme support
• Advocacy & networking
• Conducting pilot study
• Developing Appraisal Policy
• Developing SOP
• Social work tasks including Non formal education, Recreation, art & craft etc for beneficiaries


Website

Joined

27th Oct, 2014

Employees Involved

150

Volunteers Working with us

25

NGO URL

http://http:/www.spym.org
Contact Details
Himanshu Chanda (Admin)
SPYM Centre, 111/9 Opposite Sector B 4 Vasant Kunj New Delhi 110070
1126893872
info@spym.org