About us
Action for Community Transformation India Foundation Trust (ACT India Foundation) is a registered non-profit organisation working with the Tribal community in the Western Ghats of Tamil Nadu for their empowerment. Specifically, we work with the tribals in all diversified spheres such as health, education, socio-economic, cultural and environment. Mr. P. R. Ashok Raja, at his age of 21, started off his mission of working with the Paliyar and Pulayar tribes in Palani Hills in Dindigul district of Tamilnadu. On seeing the plight of the innocuous tribes he decided to advent programme in the region in participation and involvement of the tribal community. In his mission, he was supported by a few like-minded personnel, which paved the way in the formation of ACT India Foundation that was legally registered on 11th October 1995
Vision
Empower the oppressed communities of the Dindugal District in all diversified spheres such as health, education, socio-economic, cultural and environment.
Our Mission
Develop promotional strategies in developing the knowledge and skills of the oppressed people in sustaining the social, cultural, economical and political characteristics of the exploited and deprived Poor communities.
Major Programmes of ACT India Foundation
Balwadis: .

Health Education: .

Promotion of Tribal Rights:

Awareness Generation:

Campaign on Tuberculosis Prevention and Control:

Skill Trainings:

Training on Organic Farming: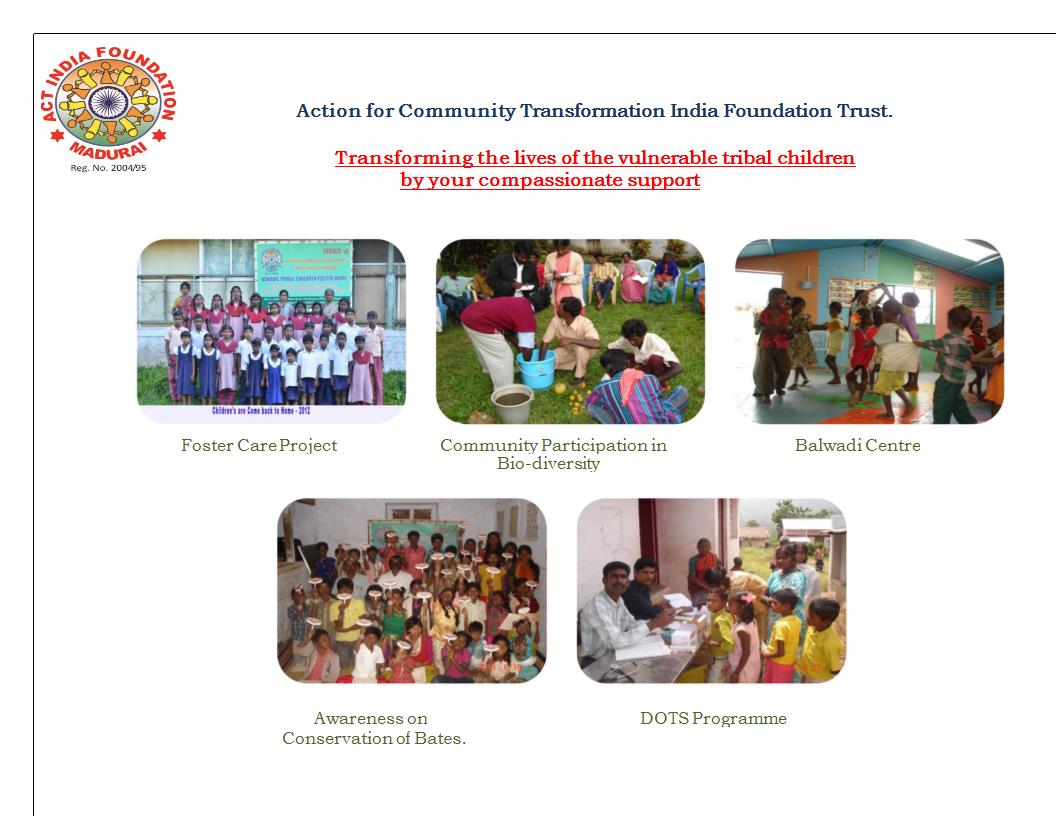 Causes we work on
Children & Youth
Community Development
Education
Environment
Poverty & Hunger
Skill Development & Livelihood
Social Business
Women
Why work with us
Team of volunteers, who involved in Tribal Development from the year 1987, consolidated their work experience in 1994 taking the situation of the tribal into account. The outcome of the consolidation made them to go for registering the organisation called 'Action for Community Transformation India Foundation Trust' (ACT India Foundation) in the year 1995. By their experience with the tribal, they felt and understood that the tribal need to understand the mainstream and keep themselves protected out of exploitation of the mainstream development; at the same time, they have to keep playing their role as tribal in the Palani Hills through protecting their tribal life and culture. Therefore, they gave importance to the education of the tribal children, specially girl children,. At the same time, they keep on working with the tribal community with the integrated approach to development and empowerment till now.
Website

Joined

10th Dec, 2016

Employees Involved

5

Volunteers Working with us

10

NGO URL

http://www.actiftrust.org
Contact Details
372A/2 GST Main Road, Pasumalai, Madurai Tamilnadu, India. Pin 625 004
9486927548
actiftust@gmail.com