ProjectHeena is an online platform where awesome volunteers and experts can connect with people who require their help in doing various projects. Volunteers like Saif help us create a better world and showcase their skills.
About Me
Photographer/ Videographer based in Mumbai. Owns Rhythmic Focus Photography which specializes in Candid Wedding Photography. Happy to work with NGOs and startups.
Testimonials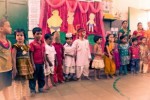 Hey Saif, Thank you so much for volunteering to click these lovely photographs of our children and teachers performing for the annual days. I just saw them and they are amazing. Once again thank you so much. Keep in touch. I might disturb you again soon. Muktangan team.
Donated: 8 Hours
My Tasks
Saif is yet to Contribute on ProjectHeena. Why not seek help from him/her and ask to collaborate on your task.
Details
Mumbai, Maharashtra, India

Male

23

Available on : Sunday Time : Flexible
Achievements
Hours Given

8 Hours

Tasks Created

No Tasks Created So Far

Karma Points

26
Preferred Cause
Arts, Culture & Sports
Children & Youth
Community Development
Skills
Similar Users