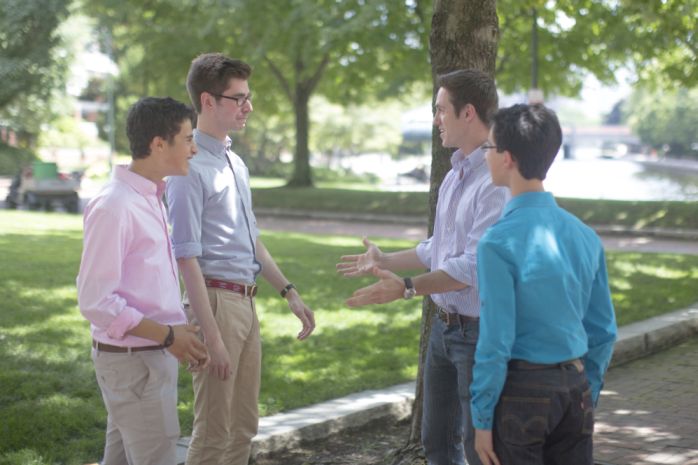 Everybody knows – that nobody will do the work – thinking somebody will do it! That's a lazy volunteer's take!
One of the common feelings we all have is our dissatisfaction towards the state of the society and how things work. We always felt the need and we were always vocal about the same! But somehow we the people don't deliver in Volunteering.
As a team most aligned with Volunteering, I feel highlighting certain key reasons for this can help our Non-Profits. None the less we have also provided our recommendations on solving these issues.
Who has the TIME?
We are always so busy in running around and multi tasking that we don't have the time to think about our own life. In such a scenario, volunteering always takes a back seat. "I do not have time do my own work. How will I volunteer?" Time most certainly is an issue. Can we allocate tasks which can be done during down-times like traveling, weekends etc? Let's keep this first in our list.
Family responsibilities. Personal Life
People work several hours a week on their jobs. Stretched work life has an immediate impact on our personal lives. Whenever people do get free time they prefer being with their family instead of going out to volunteer. Can we provide them the much needed 'family break' along with volunteering? Can community be made as an extended family rather than just a part of society that needs fixing? That's something to ponder upon.
Okay let's accept it. WE ARE JUST LAZY!
That is indeed the most common and yet the most denied reason (Look even I mentioned it as the third point). Nobody wants to accept it, however that does not mean it is not true. Procrastination just screws most of our aspirations. While you always planned to volunteer what would your lazy brains say when it's time to execute? -"Instead of volunteering why not take a day off and sleep or go out?" Such people need to be allocated group tasks. Peers drive one another quite well, don't they?
Come on, how does it all matter? (The Purpose)
When we look around at our country there are a number of things that we do want to change. However when we look around we often question whether all this effort will really make a difference? The whole the world would still  be the same, right? This is discouraging. Basis our experience at ProjectHeena I would suggest it's our responsibility to convey the impact & make people connected. Every drop contributes to an ocean, just that we need to hold all drops together till the time the results are out.
Do not know – where/what/when/how to volunteer
We work for two things – Money or Passion. No prizes to guess why people volunteer. Passion multiplies when the right things fall in place. If people don't know the where, why and how to volunteer, things just fall apart. This stands to be the worse reason to not volunteer.
Fortunately, thanks to being hyper connected, things are getting solved now. Several site (like the one you are on right now) will help you solve this query nicely. If you are a non-profit having a clear process made, helps align volunteers well.
So where do we stand now. Let's reiterate how these problems can be solved.
Time is not really a problem! We watch movies, have enough personal time and for some 'doing nothing' is also a phase of their life. Make Volunteering interesting and Fun. People make time for fun and interesting things.
People walk an extra mile for passion. Align what they can provide with what you want. We are Lazy not because we don't want to work, we are lazy at times because the work provided is just not interesting.
Assign group tasks. Involve not just the volunteer but the whole team. The task need not be one more in her bucket after the family and job. All the 3 can really co-exist!
Communicate the impact of work and what difference it can make in the life of another person. Even if you can do only a little, do it, but do contribute something should be the motto.
Rome was not built in a day. Great things take great time and effort. Make things count and always show the big picture. Experience shows that people perform at a length when they have the big picture in mind. So do communicate that on regular basis.
Yes many a times the right match is not made. We agree, BUT that doesn't stop an achiever. Remember I said it's a hyper connected world? Just go online and declare what you can contribute, ask what you want. That's the first step towards a Happy Volunteering experience. You can even declare by Joining Here
Once you are determined that you have to support a cause then there are a thousand ways of doing it. Most of the well known NGOs have websites for example- Goonj, Cry, Smile, Helpage India etc.  We ourselves register all the good NGOs we get in touch with. Check them here
I hope I was able to provide you enough solutions to inspire and drive great volunteering support. You have any doubts? We are just a comment or email away.