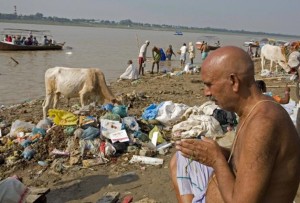 First things first, if you are a festival lover then you might find me a spoilsport.
However if you try to understand the base of my argument you will not just agree but probably be inspired to change things the way they function today. That's the very intention while writing clearly, something that can be controversial
What are festivals for?
Festivals are celebrated to signify something very important for a religion (Birth of Christ, Return of Rama from exile, Birthday of a Prophet) etc. or to ensure unity (Ganesh Chaturthi etc.), and at times to signify a spiritual change (Samadhis, Dikshas/Shobha Yatras exercised by several religions including Jainism).
On a diplomatic note I am talking about several religions (no pun intended), as diverse as possible, so that you can see things on a higher level. The intention is not just to critic but to improve
Next the question- Why are festivals celebrated?
The intention behind every festival is good. It takes human understanding to the next level. In several occasion it also becomes a reason to spread happiness by meeting and greeting your extended families. Some even cleanse by exercising fasts to purify not just your mental state but also your physical being.
While I act like an atheist but I am spell bound by the way these festivals were made and how they unknowingly benefit us in several ways. And with several generations these good habits have been passed on to us in the name of the almighty!
The Loud Evolution begins
With all these facts well understood and especially the essence of it all, let us delve into the way festivals are being celebrated today.
Festivals – Amalgam of pollution and corruption
Pollute the Environment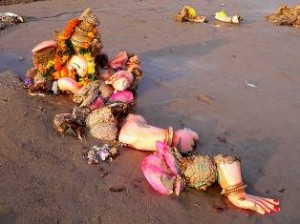 Most festivals are loud. If Diwali (as celebrated in the darkness of New Moon night) is a festival of lights; let's burn as much oil as possible. For sound, the crackers have to be loud enough to turn you deaf. While festivals should start a new period of more clarity, they generally spread dirt and filth. From the Ganesh idols in the west to the Durga idols in east, no stone is unturned to pollute the sea.
The air is polluted, so is the water, the sound is polluted and so is the very  essence.
Pollute the culture A BIG WAY!
A Ganesha who united the communities with  Chaturthis, today the same divides and colonizes the community with one Ganesh Pandal in every society. The deities today are highly political. From Ganesh Chaturthis & Janmashtami to Eids, every festival starts with blocking all roads to display your political prowess.
While political posters are legally not allowed in India, every political party has larger than life posters displayed during these festivals (Yes somewhere down the corner you do find a Ganesha or a Mosque illustrated too).
The Bhajans and chants that were started by our fore fathers have changed recently. During the last Ganesh and Durga Visarjan following were the chants I heard while coming back home with my sister and wife.
Dekho aa gayee hain 'Chhoriyaan', Ganpati bappa Morya

Zor se bolo Jai Mata ki, 'Item' Bole Jai Mata ki!
These chants are shouted in several lanes in Mumbai and for those who don't understand Hindi let me highlight that these are a milder way of eve teasing! Here goes the social policing out of the window. All of this is happening while the same devotees criticize gang rapes happening around. Are these real devotees? No paid political slaves to be precise.
Pollute Exclusively!
While I talked about colonization that Ganesha brings there is more to it. Festivals are no more a reason to get together. You have your exclusive  Ganesha Pandals, Preferred and paid Dandiya grounds, preferred political tie ups to sponsor your Christmas and Eid. Everything is very exclusive.
Another example is the procession that happens when a member from the Jain family decides to leave the mortal world and go spiritual. It is an important day. You decide to renounce the materialistic world and join a life of asceticism and self-exploration.
If you have seen a Jain monk you know they don't even wear footwear and have a Rajoharan (a broom of woollen threads) when travelling so that they accidentally don't kill unnoticeable insects on the road.
While the life of such a monk is one of solitude, the start isn't anything close. Hundreds of pennies are tossed from a Silver and Gold Chariot to announce to the world about this event. I have myself witnessed several peasants ending up in physical brutal fights for a few pennies dropped on the road while the monk leaves for sanity and solitude!
Where are we headed?
I believe I have highlighted several instances where the mere meaning of festivals has been tweaked. It is not just annoying but unbearable.
The problem with Indian mind set is we are very touchy! Anything against the religion or any act which relates to religion has to be taken with utmost care. Let us be blunt
Are festivals BAD? Absolutely NO
Should Festivals be banned? No I am not an extremist, but the way we are going ahead it needs serious cleansing!
While we are talking a lot about changing the world, it is our moral responsibility to start the change at home; and a spiritual responsibility to start with ourselves/our minds. Why not re-think the HOW to manage a festival and evolve them to this day. With great technology, better intelligence and a matured responsible behaviour; I know for sure we can make these Festivals extra special and take the race ahead as visualized by our fore-fathers.
This festive season let us try not to demean the essence and do discuss this with your dear ones. That's a request…
Welcome to the Festival of Change!
Img credit: Hindu & Vijay Dhankate